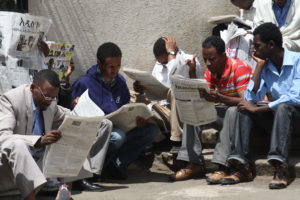 You can download the full report HERE
Since the overthrow of a military socialist regime in 1991, the private media in Ethiopia has had a volatile and precarious existence. This has increasingly been due to the authorities' heavy-handed approach.
For a little more than a decade, the press flourished and no subject was off-limits. The urban population grabbed the opportunity to quench its thirst for uncensored information of all kinds after a 17-year hiatus under the Derg military regime. There were even some pornographic magazines published that were shut down after outcry from a socially conservative society.
But that trend sharply deteriorated following a controversial election in May 2005. The government blamed journalists for colluding with the opposition and "anti-peace forces". Many wound up in prison or fled the country and the most vibrant newspapers ceased to publish.
The government then made a bleak situation worse through the enactment of a draconian anti-terrorism proclamation Despite international condemnation, the government has not hesitated to deploy it to stifle popular publications.
Some roles of the media are to hold elected officials are accountable, ensure elections are free, fair and frequent, and give citizens access to alternative sources of information. For these things to take root, the journalist has to be free to gather information wherever it is available. Citizens then should be provided easy access to the media to help them make an informed decision.
Unfortunately, even though Ethiopia is Africa's second-most populous nation with over 100 million people, most of whom are young adults, there are now only a few weekly Amharic and English language newspapers and magazines. None of them are daily, or broadsheet, and they are full of opinion pieces; partly because they struggle to access news material.
This Briefing Report is part of our effort to explore, understand and invite informed discussions on the current status of the Ethiopian media landscape. The media in Ethiopia is shaped by years of government repression, lack of support and changing regional and global environment. A sober and strategic dialogue is needed to strengthen the media despite the challenges. We hope this briefing, with all its limitations, will provoke discussion and inspire further investigation. A follow-up report that profiles media houses in Ethiopia will be available in the future. You can download the full report HERE
Team Wazema!